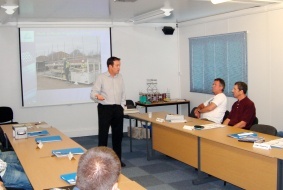 Tailored courses often have more impact particularly when they incorporate case studies, practical exercises, policies & site photographs. The full value of training courses can often be greatly enhanced by effective tailoring especially when followed up with monitoring, support & coaching. The following courses can be tailored and delivered "In House"
IOSH Safety for Senior Executives
IOSH Managing Safely
IOSH Working Safely
NEBOSH Award in Environmental Awareness at Work
OHSAS 18001 - An Introduction
OHSAS 18001 Auditors Course
Risk Assessment
CDM Regulations
Accident Investigation
Introduction to Behavioural Safety
Stress Management
Managing Contractors
Manual Handling
Driver Training
Environmental Awareness
ISO 14001 - An Introduction
ISO 14001 Auditors Course
ISO 9001- An Introduction
ISO 9001 Auditors Course
Testimonials
"I have worked with John for 8 years at EEF. He is a highly competent Health, Safety and Environmental professional. He has effectively managed and delivered HS&E consultancy & training projects both nationally & internationally for a broad range of clients. He manages to combine high technical knowledge with sound practical solutions both at strategic & operational levels. John is excellent at putting across what needs to be done in a pragmatic and sensible way, taking into account the resources of an organisation and its priorities. Sayeed Khan, Chief Medical Adviser"